Olympian and world vault champion McKayla Maroney from Long Beach, California cites using acupuncture as a helpful tool for injury recovery. Maroney re-injured a toe that was broken at an Olympic training session in Chicago two months ago. She noted, "On my beam routine, my round-off dismount, I split my big right toe." She added that this is the third time she has injured the toe. Maroney said, "I'm doing acupuncture and icing it like 30 times a day." Maroney stated, "It looks a lot better now." According to the USA women's coordinator, Maroney will compete in the vault and may forego the floor exercise competition as a precautionary measure.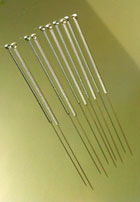 Acupuncture USAThe use of acupuncture by USA Olympians is not unusual. In the last summer Olympics, Gymnast Nastia Liukin took home the gymnastics women's all-around Olympic gold medal after using acupuncture to recover from an ankle injury. Pole vaulter Jeremy Scott used acupuncture to help in the recovery of his knee and will be competing this year. Tennessee track and field Olympian Dee Dee Trotter trained extensively with the help of acupuncture and will compete in the London Summer Olympics. Five-time Olympian from Austin, Texas Amy Acuff cites the use of acupuncture as one of the reasons why she has lasted for many years in the injury prone sport of high jump. She will go for the gold in London... but that's not all! Amy Acuff is not only an enduring Olympic athlete but is also a licensed acupuncturist.
USA Wins Silver Today!
In a triumphant win, the USA won the Olympic men's archery team silver medal today! Many of the men and women on the archery team receive acupuncture as part of their training… but that's not all! Team USA Olympic Archer Nicole Rasor, L.Ac. is a licensed acupuncturist with a practice in Tucson, Arizona. Nicole also competed in the 1984 Olympics on the diving team.
About the Healthcare Medicine Institute: HealthCMi provides online acupuncture CEU credit to licensed acupuncturists and publishes current events related to acupuncture, herbal medicine and important innovations in healthcare technology.