Acupuncture helps Team USA race to gold at the London Summer Olympics. In the women's 4X400m relay, track and field runner Dee Dee Trotter kicked off the lead in an amazing first leg and separated herself from the pack. Distancing herself from Russia, Jamaica and Great Britain, her breathtaking lead made it an easy night for the relay team. Team USA ran to gold, Russia took silver and Jamaica took bronze. It was the third fastest 4X400m women's USA relay time ever!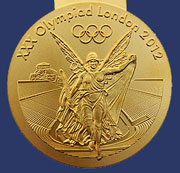 Acupuncture GoldEven more amazing is Dee Dee Trotter's commitment to fair play and sportsmanship. She is known for using acupuncture as part of her training and even received acupuncture treatments track-side after sprints. In her commitment to promoting natural athleticism, she founded the not-for-profit organization Test Me I'm Clean. The organization is dedicated to promoting its three founding principles: hard work, honesty and honor. In addition, the organization combats the use of steroids and performance enhancement drugs. Dee Dee Trotter was born in Twenty Nine Palms, California and resides in Orlando, Florida.
About the Healthcare Medicine Institute: HealthCMi provides online acupuncture CEU credit to licensed acupuncturists and publishes current events related to acupuncture, herbal medicine and important innovations in healthcare technology.