New research shows that patients with fibromyalgia are likely to seek acupuncture treatment and other forms of complementary or alternative medicine (CAM). Published by the University of Montana, the research focused on whether or not pain motivated patients to seek CAM therapies such as acupuncture, massage, chiropractic, yoga, Tai Chi and cognitive behavior therapy. The results showed that over 70% of patients with fibromyalgia sought CAM therapies. The research concluded that "interference in daily activities from pain increases the use of CAM…."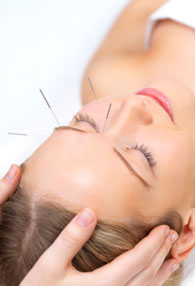 Acupuncture for FibromyalgiaFibromyalgia is a disorder characterized by chronic pain and is due to neuroendocrine dysfunction. Fibromyalgia pain is non-nociceptive. This type of pain is not due to the activation of pain receptors as in burns and injuries. Non-nociceptive pain is due to destructive changes in the nervous system. The pain originates in the peripheral or central nervous system and pain is generated by nerve cell dysfunction. Migraine headaches, irritable bowel syndrome pain and fibromyalgia related pain are all forms of non-nociceptive pain.
The treatment of fibromyalgia with acupuncture and herbal medicine within the Chinese Medicine system predates its acknowledgment within biomedicine. Ancient writings and modern Chinese Medicine research document acupuncture's beneficial effects for the treatment of fibromyalgia. Recently, a study demonstrated that acupuncture reduces pain sensitivity for fibromyalgia syndrome (FMS) patients. In addition, these patients demonstrated significant reductions in anxiety and depression. As a result, the overall quality of life score improved for fibromyalgia patients receiving acupuncture treatments.
These findings concur with the conclusions of research published in Clinical Rheumatology. Investigators discovered that acupuncture has "beneficial effects" for patients with fibromyalgia. Other recent research conducted at the University of Maryland School of Medicine (Baltimore) and at the Mayo Clinic College of Medicine (Minnesota) came to the same conclusion about the efficaciousness of acupuncture for the treatment of fibromyalgia. Researchers from the Department of Anesthesiology at the Mayo Clinic College of Medicine noted, "We found that acupuncture significantly improved symptoms of fibromyalgia. Symptomatic improvement was not restricted to pain relief and was most significant for fatigue and anxiety."
According to Chinese Medicine principles, fibromyalgia is due to Liver Qi stagnation, Bi syndrome, dampness with Wei Qi obstruction, Qi deficiency and Yin deficiency. Acupuncture and herbal medicine are commonly used to treat fibromyalgia within the framework of the Chinese Medicine system of differential diagnostics. Biomedical treatments for fibromyalgia include anti-depressants, serotonin reuptake inhibitors, sleep drugs, pain medications and nutritional supplements.

References:
Skogley, Sandra. "Effects of Pain Interference on Use of Complementary Therapy in Fibromyalgia." (2013).
Bastos, Jessica Lucia Neves, et al. "Effect of Acupuncture at Tender Points for the Management of Fibromyalgia Syndrome: A Case Series." Journal of Acupuncture and Meridian Studies (2013).
An overview of systematic reviews of complementary and alternative medicine for fibromyalgia. Rohini Terry, Rachel Perry and Edzard Ernst. Clinical Rheumatology
Volume 31, Number 1 (2012), 55-66, DOI: 10.1007/s10067-011-1783-5.
Berman BM, Ezzo J, Hadhazy V, Swyers JP. Complementary Medicine Program, University of Maryland School of Medicine, Baltimore 21207, USA. The Journal of Family Practice [1999, 48(3):213-218].
Mayo Clin Proc. 2006 Jun;81(6):749-57. Improvement in fibromyalgia symptoms with acupuncture: results of a randomized controlled trial. Martin DP, Sletten CD, Williams BA, Berger IH. Department of Anesthesiology, Mayo Clinic College of Medicine, Rochester, Minnesota.