A study confirms that acupuncture's medical benefits are acupuncture point specific for its effective actions on the stomach, intestines and heart. Researchers discovered that needling acupuncture point CV12 increases HRV, heart rate variability, an important ability of the human heart to vary its rate in reaction to bodily demands. Needling CV12 did not affect electrogastrogram signals, a measure of electric signals in the stomach and intestines. The converse is true of needling acupuncture point UB32. Applying an acupuncture needle to this point affects electrogastrogram readings but does not affect HRV.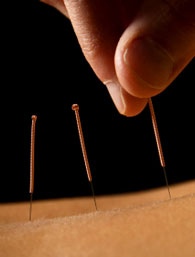 Acupuncture This is the latest in a series of investigations proving that specific acupuncture points have specific effects. In a related MRI acupuncture study, investigators note that acupuncture "induce(s) different cerebral glucose metabolism changes in pain-related brain regions and reduce(s) intensity of pain" for patients with migraines. PET-CT neuroimaging (positron emission tomography - computed tomography) revealed that the choice of acupuncture points used determines exact changes in brain glycometabolism in specific regions of the brain.
Researchers at the University of California School of Medicine (Irvine, California) came up with similar results, "Recent evidence shows that stimulation of different points on the body causes distinct responses in hemodynamic, fMRI and central neural electrophysiological responses." The investigators reviewed MRI results and noted that "stimulation of different sets of acupoints leads to disease-specific neuronal responses, even when acupoints are located within the same spinal segment."
This type of research demonstrates that acupuncture points have specific biophysical effects on human health. For centuries, Traditional Chinese Medicine (TCM) scholars have documented specific clinical results for individual acupuncture points and groupings of acupuncture points. Researchers investigated this theoretical and clinical construct with MRI imaging technology to test for acupuncture point specificity. Their findings agree with the traditional view that the functional medicinal actions of individual acupuncture points have unique biophysical affects and render specific beneficial clinical outcomes for patients.
Reference:
Minagawa, Munenori, Yasuzo Kurono, Tatsuyo Ishigami, Atsushi Yamada, Toshinori Kakamu, Ryoichi Akai, and Junichiro Hayano. "Site-specific organ-selective effect of epifascial acupuncture on cardiac and gastric autonomic functions." Autonomic Neuroscience (2013).
A PET-CT study on specificity of acupoints through acupuncture treatment on migraine patients. Jie Yang1, Fang Zeng1, Yue Feng1,Li Fang1, Wei Qin2, Xuguang Liu1, Wenzhong Song3, Hongjun Xie3 , Ji Chen1, Fanrong Liang1.

Point specificity in acupuncture. Chinese Medicine 2012, 7:4 doi:10.1186/1749-8546-7-4. Emma M Choi, Fang Jiang, John C Longhurst. 
Susan Samueli Center for Integrative Medicine, Department of Medicine, School of Medicine, University of California, Irvine CA.