New research reveals that acupuncture bested a pharmaceutical medication for the treatment of sleep disorders. A special Traditional Chinese Medicine manual acupuncture technique was applied to acupuncture points commonly used to benefit sleep by licensed acupuncturists combined with the oral administration of vitamin B1. The acupuncture group was measured against the drug group and a control group. The control group received needling stimulation at non-acupoints and the oral administration of vitamin B1. The drug group received estazolam, a benzodiazepine pharmaceutical medication that has anticonvulsant, antianxiety, sedative and muscle relaxant effects. The researchers discovered that the drug was 59.7% effective while acupuncture was 84.1% effective. The control group only showed a 25% effective rate thereby ruling out the placebo effect triggered by sham acupuncture.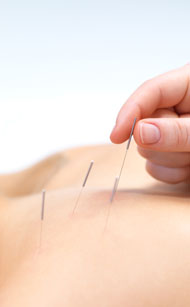 For over one thousand years, acupuncture points SP6 (Sanyinjiao), Anmian (EXHN22), HT7 (Shenmen)` and Back Shu points have been used by acupuncturists for the treatment of sleep disorders. This modern research tested the efficacy of this acupuncture point prescription combined with a classic manual acupuncture technique, the flying technique, and oral administration of vitamin B. The acupuncture technique is named after the motion exerted on the release of the acupuncture needle. The handle of the acupuncture needle is held while the needle is rotated slightly and the hand then releases the handle like 'the flying of a bird.'
The flying technique is used in Traditional Chinese Medicine (TCM) and other forms of Oriental Medicine (OM) to strengthen the stimulation of the acupuncture point and to promote what is referred to as the free flow of Qi, energy. Traditionally, the flying technique is also combined with other acupuncture techniques such as the rubbing and fanning acupuncture needle techniques. The researchers did not add the additional techniques but isolated the singular flying technique for this study. The researchers concluded that flying acupuncture needle therapy is "superior to estazolam and non-acupoint acupuncture."
All of the acupuncture points used in the study are common to clinical practice for licensed acupuncturists. Perhaps one of the most popular and historically well documented acupuncture points for the treatment of insomnia is HT7 (Shenmen). Translated as Spirit Gate, this acupuncture point is located on the wrist crease at the ulnar end in a depression on the radial side of the tendon of the flexor carpi ulnaris. HT7 connects to acupuncture point SI7 in the traditional Yuan-Luo (Souce-Connecting) combination. HT7, according to Traditional Chinese Medicine theory, is a Shu Stream, Earth, Son and Source Point. HT7 functions to calm the spirit, pacify the Heart and clear the channels. HT7 is indicated for the treatment of insomnia, hysteria, irritability, palpitations, amnesia, absent mindedness, mania, dementia, epilepsy, seizures, hypochondriac pain, icteric sclera and jaundice.

Reference:
Chen, X. H., Y. Li, Y. Kui, C. Wang, F. Fang, D. J. Zhou, S. H. Zhang, and Y. D. Xian. "[Sleep disorder treated mainly with flying needling therapy: a clinical randomized controlled research]." Zhongguo zhen jiu= Chinese acupuncture & moxibustion 33, no. 2 (2013): 97-100.