New research finds that acupuncture lowers elevated blood glucose levels related to obesity and diabetes. A laboratory experiment using obese diabetic rats incorporated electroacupuncture applied to Zhongwan (CV12) and Guanyuan (CV4). The experimental model was compared with two other groups. A control group received no acupuncture and another group received acupuncture at Zusanli (ST36). The groups receiving acupuncture at ST36 and the control group receiving no acupuncture did not show significant changes in blood glucose levels. The group receiving acupuncture at CV4 and CV12 showed significantly lower glucose levels. The researchers concluded that electroacupuncture applied to CV4 and CV12 "was effective in lowering baseline BG (blood glucose) and modulating the change in BG."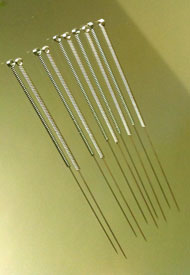 Acupuncture NeedlesThis finding coincides with the release of another recent study demonstrating that acupuncture significantly reduces diabetic neuropathy, a condition involving symptoms such as numbness, tingling, electrical sensations and pain in the extremities. The study showed that human patients taking medications improved only 37.45% but patients receiving medications combined with acupuncture treatments improved at a remarkable 90% rate. This finding supports the integrative medicine model of patient care wherein the synergistic effects of combined modalities yields better patient outcomes than either as a standalone therapy.
The study used acupuncture point CV4 (Guanyuan) as did the aforementioned laboratory experiment showing the blood glucose lowering effects of electroacupuncture. This acupuncture point is located on the midline, three cun below the umbilicus. According to Traditional Chinese Medicine (TCM) theory, it is the Front Mu point of the Small Intestine. CV4 nourishes and stabilizes the Kidney, regulates Qi and restores Yang. CV4 is the intersection of the 3 leg Yin channels. Historically, Guanyuan is translated as the Gate of Origin and is also referred to as the Sea of Qi, Gate of Life (Mingmen) and Lower Dantian. According to Chinese medicine principles, this point has a powerful effect on nourishing and tonifying the body. There is a long history in Chinese Medicine (CM) historical texts and modern clinical usage for implementing this acupuncture point for diabetes related conditions including enuresis (lack of urinary control), impotence, dysuria (painful urination), retention of urine and kidney related disorders. This acupuncture point is one of the main strengthening points in Chinese Medicine and is given the function of tonifying the original Qi (energy) and benefitting the Jing (essence). Researchers also used Quchi (LI 11), Weiwanxianshu (EX-B3), Shenshu (BL 23), Zusanli (ST 36), Hegu (LI 4) and Sanyinjiao (SP 6) in this study.
Dietary modifications are a common way to affect blood glucose levels. Chinese Medicine dietetics covers dietary modifications for the treatment of diabetes in detail. Take a look at the video below to see samples of Chinese Medicine dietetics. One of the foods presented in this video for the treatment of acne, bitter melon, is also commonly used for the treatment of blood glucose disorders and diabetes.

Reference:
Peplow, Philip V., and Soo Min Han. "Repeated Application of Electroacupuncture Ameliorates Hyperglycemia in Obese Zucker Diabetic Fatty Rats." Journal of Acupuncture and Meridian Studies (2013). Department of Anatomy, University of Otago, Dunedin, New Zealand.