New research has discovered that a Traditional Chinese Medicine (TCM) herbal medicine prevents the proliferation of tumors and causes the elimination of tumors comprised of breast cancer cells. A chromatographically purified form of the herb Tian Hua Fen was injected into laboratory mice with tumors caused by estrogen dependent and non-estrogen dependent breast cancer cells. Sterilized Tian Hua Fen, Trichosanthes Kirilowii Maximowicz, was injected intraperitoneally and caused significant reductions in both tumor weight and volume within 16 days of treatment. Immunohistochemistry corroborated the findings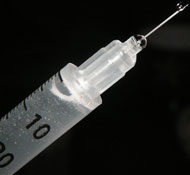 The dose had no detectable toxicity. Analysis revealed that Tian Hua Fen effectively induces apoptosis, cell death, in both estrogen dependent and non-estrogen dependent breast cancer cells both in vitro and in vivo. The researchers note that the herbal medicine's ability to eradicate breast cancer cells without toxicity warrants further clinical trials. The researchers also note that Tian Hua Fen may possibly be developed for combination with other chemotherapeutic therapies.
The researchers note that mature Tian Hua Fen contains 247 amino acids and "shares remarkable sequence similarity with other antitumor proteins in plant genera Trichosanthes and Momordica…." The study cited prior research demonstrating Tian Hua Fen's "ability to ablate the replication of human immunodeficiency virus (HIV) and herpes simplex virus type 1 (HSV-1)." They suggested that Tian Hua Fen is a "potential antidote against some tumors" because it interferes with tumor growth through varying molecular mechanisms. The pathways that block tumor growth were outlined in detail. Notably, the researchers cited that Tian Hua Fen has "specific tumor cell recognition as well as binding and cellular entry characteristics" and that Tian Hua Fen does so based on its "binging on different membrane proteins" including those of human carcinoma cells.
It is important to distinguish this herb's common use in an acupuncture clinic versus its application in this research. A licensed acupuncturist uses Tian Hua Fen for a variety of treatment therapies in powders, tablets, capsules and decocted teas. In this investigation, Tian Hua Fen is sterilized and injected directly into the laboratory mice. As a result, the effective action and medicinal function varies greatly between the oral and injection applications of Tian Hua Fen. This herb lends great hope in the development of cures for breast cancer but this is not to suggest that the oral ingestion of this herb has the ability to eradicate breast cancer. That said, we can only hope that funding for future research will help develop the full potential of Tian Hua Fen in the fight against breast cancer.

Reference:
Fang, Evandro Fei, Chris Zhi Yi Zhang, Lin Zhang, Jack Ho Wong, Yau Sang Chan, Wen Liang Pan, Xiu Li Dan, Cui Ming Yin, Chi Hin Cho, and Tzi Bun Ng. "Trichosanthin inhibits breast cancer cell proliferation in both cell lines and nude mice by promotion of apoptosis." PloS One 7, no. 9 (2012): e41592.