Acupuncture is effective for the treatment of inflammatory bowel diseases (IBD), according to a new study. IBD involves the inflammation of the digestive tract and includes ulcerative colitis, Chron's disease and other chronic intestinal diseases characterized by abdominal pain and diarrhea. The researchers discovered that electroacupuncture suppressed IBD by regulating peristalsis via its effective actions on the sympathetic nervous system.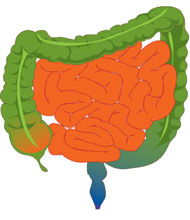 In related research, acupuncture has been found effective for the treatment of irritable bowel syndrome (IBS). The study was a meta-analysis of 11 investigations with a sample size totaling 950 patients. The researchers concluded that acupuncture combined with moxibustion is both safe, effective and is clinically more effective than pharmaceutical medications for the treatment of IBS.
These recent studies reflect earlier findings published in The Journal of the American Medical Association on the efficaciousness of Chinese Medicine for the treatment of gastrointestinal diseases. The study demonstrated that Chinese herbal medicine "offers improvements in symptoms for some patients with IBS." A review from the Duke University Medical Center (Durham, North Carolina) published in the Journal of Gastroenterology notes that acupuncture exerts antiemetic and antinociceptive effects. The review posits acupuncture as potentially appropriate for the treatment of GERD (gastroesophageal reflux disease), functional gastrointestinal dysfunction and functional dyspepsia.
Reference:
Yutani, Toru, Hirohisa Kawahata, Daisuke Sotobayashi, Hiroshi Kawanami, and Motokuni Aoki. "Anti-inflammatory Effect of Electro-acupuncture via Reduction in Colonic Peristalsis in a Mouse Model of Inflammatory Bowel Disease." Immunology, Endocrine & Metabolic Agents in Medicinal Chemistry (Formerly Current Medicinal Chemistry-Immunology, Endocrine and Metabolic Agents) 13, no. 2 (2013): 122-131.
Zhongguo Zhen Jiu. 2012 Oct;32(10):957-60. [Meta analysis of acupuncture-moxibustion in treatment of irritable bowel syndrome]. Pei LX, Zhang XC, Sun JH, Geng H, Wu XL. Acupuncture and Rehabilitation Department, Jiangsu Province Hospital of TCM, Nanjing, China.
JAMA. 1998 Nov 11;280(18):1585-9. Treatment of irritable bowel syndrome with Chinese herbal medicine: a randomized controlled trial. Bensoussan A, Talley NJ, Hing M, Menzies R, Guo A, Ngu M. Research Unit for Complementary Medicine, University of Western Sydney Macarthur, Campbelltown, New South Wales, Australia.
Fireman, Zvi, et al. "Acupuncture treatment for irritable bowel syndrome." Digestion 64.2 (2001): 100-103.
Lembo, Anthony J., et al. "A treatment trial of acupuncture in IBS patients." The American journal of gastroenterology 104.6 (2009): 1489-1497.
T. Takahashi, J Gastroenterol 2006,; 41:408-417. DOI 10.1007/s00535-006-1773-6.