Acupuncture and Traditional Chinese Medicine (TCM) therapeutic techniques are effective treatments for lower back pain due to lumbar disc herniations. A new randomized, controlled clinical trial demonstrates that acupuncture and TCM therapy reduces back pain and restores motor functionality for patients with herniated lumbar discs. A sample size of 408 patients receiving a traditional combination of TCM therapies were examined in comparison to a control group receiving health education, pain medications and physical therapy. The acupuncture-TCM group showed significantly greater improvement than that of the control group.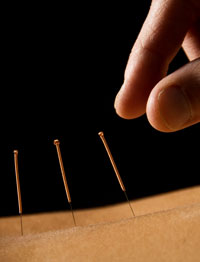 Low Back AcupunctureThe patients in the TCM group received electro-acupuncture, a Chinese herbal medicine injection of Dan Shen (Salvia miltiorrhiza) and an external herbal medicated plaster during the acute stage. During the subacute stage, patients received Tuina massage, Chinese herbal medicine hot compresses and external herbal medicated plasters. During the chronic stage, patients received TCM functional exercises and external herbal medicated plasters.
The electro-acupuncture was applied to acupuncture points UB25 (Dachangshu) and Baihuanshu (UB30). De qi sensation was achieved followed by a continuous wave pulse of 0.6ms at 20Hz. The electro-acupuncture was applied once per day for 30 minutes. The chief ingredients in the herbal plasters were Zi Jing Pi, Huang Jing Zi, Da Huang, Chuan Xiong, Tian Nan Xing and Ma Qian Zi. The TCM function of the plasters are to enhance blood circulation, resolve blood stasis, eliminate swelling and to alleviate pain. The herbal medicated plasters were applied to the areas of intense pain. The herbal medicine injections functioned to enhance blood circulation and to resolve blood stasis.
The Chinese herbal medicine hot compresses were composed of Cang Zhu, Qin Jiao, Sang Zhi, Mu Gua, Hong Hua, Chuan Xiong, Hai Feng Teng and Lei Gong Teng. The herbs were placed in a gauze bag, decocted for 20 minutes, allowed to reduce in temperature slightly and were then applied to the lower back for 30-40 minutes at a rate of once per day. The TCM functional exercise was the Flying Swallow style (Fei Yan Shi). Here, the patient rests in the prone position, extends the hand backwards and lifts the chest and lower limbs off the bed using the abdomen as the pivot. Intervals of this exercise plus relaxation were conducted once a day with 4-5 repetitions. The function of the exercise program is to strengthen the lower back muscles and increase spinal stability. The intention is to prevent repeated relapses of the condition. The Tuina massage employed the Anrou (pressing & kneading), Tanbo (plucking) and Gun (rolling) techniques once per day.
The control group received health education including instructions as to avoid activities that exacerbate or aggravate the condition. Patients were also instructed to rest and received pain medications and physical therapy. The acupuncture-TCM group was compared with the control group. The researchers concluded, "This randomized controlled clinical trial provides reliable evidence regarding the effectiveness of integrative TCM conservative treatment for patients with low back pain due to lumbar disc herniation."
Reference:
Yuan, Wei An, Shi Rong Huang, Kai Guo, Wu Quan Sun, Xiao Bing Xi, Ming Cai Zhang, Ling Jun Kong, Hua LU, Hong Sheng Zhan, and Ying Wu. "Integrative TCM Conservative Therapy for Low Back Pain due to Lumbar Disc Herniation: A Randomized Controlled Clinical Trial."