Acupuncture is effective in the treatment of acne. A meta-analysis of 43 acupuncture acne trials with approximately 3,500 patients was reviewed. Several types of acne were investigated: vulgaris, papulopustular, inflammatory, adolescent and polymorphic. The researchers discovered that when acupuncture is added to a therapeutic regime, it synergistically enhances the medicinal benefits of the treatment protocol and leads to superior patient outcomes. Acupuncture combined with herbal medicine yields better results than herbal medicine as a standalone modality.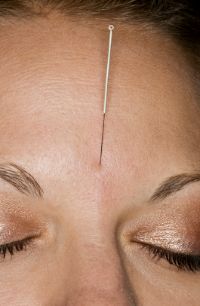 Acupuncture combined with herbal face masks yields better results than herbal face masks as a standalone therapy. Interestingly, the researchers discovered that adding cupping therapy also enhanced clinical outcomes. No serious adverse effects were reported for any of the patients. The researchers note that acupuncture is both safe and effective for the treatment of acne and recommend further research.
These findings are consistent with a recent study showing that acupuncture regulates hormone levels in women with PCOS, polycystic ovarian syndrome. PCOS is marked by hirsutism, acne, insulin resistance and infertility. The study showed that acupuncture successfully regulated endogenous sex steroids in the ovaries and in the blood. The research was conducted by the Institute of Neuroscience and Physiology and was published in the American Journal of Physiology - Endocrinology and Metabolism. This study indicates that acupuncture may be helpful in controlling symptoms associated with PCOS, including acne.
The use of herbal teas and face masks for the treatment of acne has a long and well-documented historical record in Traditional Chinese Medicine (TCM). The herb Qing Dai is often powdered and mixed with either bitter melon or cucumber juice to form a paste. The paste is applied as a mask and is retained for about a half hour. Its anti-toxin and anti-inflammatory properties helps to reduce even the most pernicious cystic acne. The new research demonstrates that the addition of acupuncture to an herbal face mask protocol increases positive clinical outcomes. Prof. Jeffrey Pang, L.Ac. of the Healthcare Medicine Institute notes that acupuncture opens the channels and guides the herbs to deliver their clinical benefits. Prof. Pang will be presenting new dietetics webinars throughout the year at the Healthcare Medicine Institute. Take a look at the video below to view a sample of a dietetics webinar.

Reference:
Cao, Hui-juan, Guo-yan Yang, Yu-yi Wang, and Jian-ping Liu. "Acupoint Stimulation for Acne: A Systematic Review of Randomized Controlled Trials." Medical Acupuncture (2013).