A new study concludes that acupuncture helps to arouse coma patients with severe brain injuries.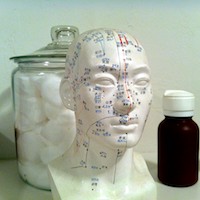 Electroacupuncture applied to acupuncture GV20 (Baihui), GV26 (Shuigou) and related acupuncture points accelerated a return to consciousness for coma patients and promoted neurological recovery. The acupuncture group was measured against two other groups in this randomized clinical trial. One group received conventional medications and another received naloxone. The third group received electroacupuncture. Arousal rates for the standard medication group were 46.6% and 73.33% for the naloxone group. The acupuncture group had an 80% arousal rate from a coma state.
Treatments were administered for all groups at a rate of once per day for a total of 14 days. Electroacupuncture treatments lasted 30 minutes per session. All three groups showed improvement following completion of the treatment regime and at a one month follow-up investigation. The electroacupuncture group scored higher in the Glasgow Outcome Scale than the naloxone group and conventional medication group. Notably, the naloxone group faired almost as well as the electroacupuncture group. The conventional medication treatment group received standard care for hypothermia, medications for dehydration, hormone therapy, brain nutrition supplementation, vascular dilation therapy, anti-inflammatory medications and other related pharmaceuticals. Naloxone was given to the other medication group. Naloxone is an opiod inverse agonist and counters opioid overdoses and life threatening depression of the central nervous system and respiratory system. Although both medication groups showed benefits from treatment, the electroacupuncture group showed better neurological outcomes and higher arousal from coma rates.
The success of both naloxone and electroacupuncture over conventional medication regimes may suggest a need to study combining these therapies. Perhaps it is possible to exert a synergistic effect by combining these therapies thereby enhancing the therapeutic value and improving patient outcomes.

Reference:
Zhang, Y. M., A. L. Chen, C. Z. Tang, Y. Q. Zhang, H. B. Yin, and S. X. Chen. "[Clinical observation on electroacupuncture for arousing consciousness of comatose patients with severe trauma brain injury]." Zhen ci yan jiu= Acupuncture research/[Zhongguo yi xue ke xue yuan Yi xue qing bao yan jiu suo bian ji] 38, no. 2 (2013): 158-162.