New research from the University of Maryland School of Medicine concludes that acupuncture increases pregnancy rates for women receiving IVF at medical clinics that otherwise have low success rates with the fertility procedure.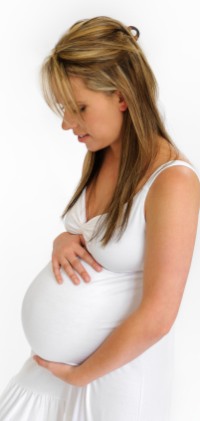 The study was a systematic review of 16 clinical trials with a total of 4,021 subjects. Acupuncture was compared with IVF as a standalone treatment and also with IVF combined with simulated-sham acupuncture. The researchers discovered some very interesting results.
Across the 16 separate and independent clinical trials, acupuncture was successful in increasing pregnancy rates in clinics with a lower than 32% IVF success rate. On the other hand, acupuncture did not enhance the IVF procedure in clinics wit a higher than 32% success rate. Lead author Eric Manheimer notes that this may be due to the fact that acupuncture and other fertility enhancement procedures have a lessened clinical value for IVF when the pregnancy rates are already high. The study concludes that in cases where pregnancy rates are low, acupuncture offers a significant clinical benefit to those receiving IVF by increasing the pregnancy rate.
Another recent study concludes that acupuncture and moxibustion significantly increase pregnancy rates for women receiving IVF fertility treatments. The study investigated infertile women who had at least 2 unsuccessful IVF fertility treatments. True acupuncture, sham acupuncture and a control group were compared. The acupuncture group showed a significantly higher clinical success rate the IVF procedure than both the sham acupuncture and control groups. The acupuncture group had a 35.7% success rate whereas the sham group had a 10.7% success rate and the control group had a 7.1% success rate. These findings are consistent with the University of Maryland Study in that acupuncture has been shown to significantly increase IVF success rates for individuals and clinics with a prior history of failed IVF procedures respectively.
This second study investigated both acupuncture and moxibustion for the enhancement of IVF success rates. Acupuncture points on the Conception Vessel, Governing Vessel and Urination Bladder Channel were chosen: UB18, UB22, UB23, UB52, CV3, CV4, CV5, CV7 and GV4. Acupuncture needling was administered on the first and seventh days during which ovulation was medically induced. Acupuncture was also administered on the day prior to medical intervention of the ovary and on the day after the embryo transfer.
Yet another study presented conclusive evidence showing that acupuncture is more effective than clomifene (Clomid, Omifin) for the treatment of infertility. Acupuncture had a 76.8% success rate for the induction of ovulation and clomifene demonstrated a 48.1% success rate. More than this, an important study discovered that acupuncture increases live birth rates. Women receiving IVF treatments had significantly higher live birth rates if acupuncture was applied on the day of embryo transfer. Researchers from the University of Washington (Seattle), Oregon College of Oriental Medicine (Portland) and the Northwest Center for Reproductive Sciences (Kirkland, Washington) applied acupuncture prior to the IVF procedure to GV20, CV6, ST29, SP8, P6, and LV2 along with auricular points: uterus, endocrine, shenmen, brain. Afterwards, acupuncture points LI4, SP10, ST36, SP6 and K3 were applied along with the same auricular points. Notably, prior to IVF the uterus and endocrine points were applied to the right ear and the shenmen and brain auricular acupuncture points were applied to the left ear. After the IVF procedure, the auricular points were applied to the opposite ears.
Another study study also concluded that acupuncture increases live birth rates for women who get IVF treatments. Scientists sought to measure the histological mechanisms by which acupuncture exerts its effective action. They were successful in discovering that acupuncture increases blood and embryo levels of HLA-G, a protein that is predictive of higher pregnancy and live birth rates when in higher concentrations. It is important to note that this biochemical research concluded that acupuncture increased both pregnancy rates and live birth rates.
References:
Manheimer, Eric, Daniëlle van der Windt, Ke Cheng, Kristen Stafford, Jianping Liu, Jayne Tierney, Lixing Lao, Brian M. Berman, Patricia Langenberg, and Lex M. Bouter. "The effects of acupuncture on rates of clinical pregnancy among women undergoing in vitro fertilization: a systematic review and meta-analysis." Human reproduction update (2013).
di Villahermosa, Daniela Isoyama Manca, Lara Guercio dos Santos, Mariana Balthazar Nogueira, Fabia Lima Vilarino, and Caio Parente Barbosa. "Influence of acupuncture on the outcomes of in vitro fertilisation when embryo implantation has failed: a prospective randomised controlled clinical trial." Acupuncture in Medicine (2013).
Journal of Acupuncture and Tuina Science, 2012, 10(2), R246.3. Teng Hui, Liu Yu-lei, Wang Jun-ling, Xie Ying. Department of Traditional Chinese Medicine, Shenzhen Maternal and Child Healthcare Hospital, Guangdong, China.
Johansson, Julia, et al. "Acupuncture for ovulation induction in polycystic ovary syndrome: A randomized controlled trial." American Journal of Physiology-Endocrinology And Metabolism (2013).
Hullender Rubin, Lee E., Michael S. Opsahl, Lisa Taylor-Swanson, and Deborah L. Ackerman. "Acupuncture and In Vitro Fertilization: A Retrospective Chart Review." The Journal of Alternative and Complementary Medicine (2013).

Exploration of clinical regularities in acupuncture-moxibustion treatment for infertility. Qin-feng Huang. JOURNAL OF ACUPUNCTURE AND TUINA SCIENCE. Volume 10, Number 2. (2012), 72-76, DOI: 10.1007/s11726-012-0574-0.
Fertil Steril. 2005 Jan;83(1):30-6. Secretion of human leukocyte antigen-G by human embryos is associated with a higher in vitro fertilization pregnancy rate. Yie SM, Balakier H, Motamedi G, Librach CL.